Hello
Today it is my turn to share my creation for the current challenge at Unstampabelles here
Now please my creation is the type of CASe you need to stand back and close one eye to get the idea! 
#99: Creative Souls or Being Creative 
  When everything is about art! 
Creating it, looking at it, admiring it, buying it; selling it; enjoying it……….
 TWIST –  name a creative person you admire
 and CASe a piece of their work
What is CASe?
Copy and Share!
You copy the plan, the colours, the elements used or some or all of them…….
You can make a card, a tag, a scrap page, an off the page item……
all based on someone else's work that you admire.
They can be a card maker, an artist, a photographer, a multi-media artist, a scrapbooker, a musician, an actor or film maker, one of the DT…..anyone who is an artist in their own right. 
WITHOUT using stamps of any kind  of course. 
(Especially Digi Stamps!)
This was a challenge for me to find someone who is artistic and creative to CASe.  I decided not to choose a card maker – there are so many I follow and admire I couldn't pick just one!  So I opted to choose an illustrutor and author. 
My inspiration
I used punches and die cuts to create my little scene. 
I chose Graeme Base as my artist and my card above was inspired by the inside front page of "The Waterhole".  In our house we have a substantial collection of Graeme's works not just for their story telling but also for his fabulous detailed art work.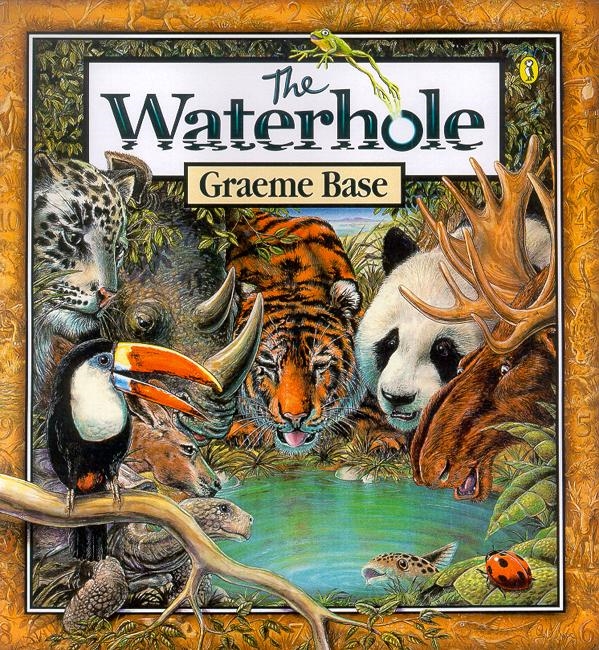 Thanks for stopping
Cheers
Vicki